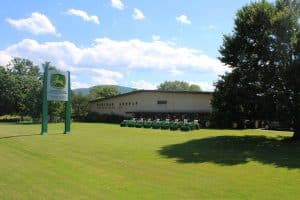 Family, farmers, and friends are the foundation on which Stark & Jennie Bartron built Bartron Supply. Founded in 1948, the business sought to support the local farming community. Stark Sr. was fond of a particular green tractor on his farm – the John Deere. With high hopes, Stark Sr. asked Jennie to write a letter to John Deere expressing his interest in a dealership. The letter was approved, and Bartron Supply became the first John Deere Dealer in Northeast Pennsylvania.
Over the years, the Bartron family and the business grew. They expanded their product lines to include Husqvarna, Honda power equipment, and Bobcat's compact construction equipment line. Bartron Supply became a staple name to the people of Wyoming County, from farmers to operators to homeowners. In 1980, Stark Sr. stepped down as CEO as they welcomed his son, Stark Bartron II, as the company's new owner. And in 2014, after almost 35 years, Stark II handed down the business to his son, Stark Bartron III, and daughter, Bekah Frisco. And under this new duo, Bartron Supply saw growth unlike ever before.
In 2018, Bobcat approached the Bartron family with an opportunity for expansion. Having found great success in Tunkhannock with Bobcat's equipment line, they knew this was the next step in growing with the company. By June 2019, they had opened their first extension, Bobcat of Binghamton, in Binghamton, New York. Continuing their expansion, they set their eyes on Honesdale, opening store number three in March of 2020 – Bobcat of Wayne County. And this fall, Bobcat of Wayne County will be moving into its brand-new dealership, currently under construction in Waymart.
The journey to today was not always easy. In 1977, a devastating fire tore through the original building. Far from repair, the Bartron's decided to rebuild, opening the new store less than a year later just across the road. And in 2011, crisis struck again in the form of a flood, leaving Bartron Supply's showroom under 3-feet of rushing water. Damaged but not destroyed, they cleared the old showroom and added the now-standing 10,000 ft showroom onto the old building. The employees set up temporary trailers to keep the farmers, businesses, and residents up and running during construction. Through all this misfortune, the Bartron family remained resilient. They have a legacy to protect and will keep moving forward.
Next year, Bartron Supply will be celebrating 75 years in business. Success is so much more than the years in business. Bartron Supply measures success in the day-to-day interactions with their customers and the relationships they have cultivated along this journey to 75. None of Bartron Supply's success would be possible without their hardworking and dedicated team. The Bartron Supply family extends their gratitude and love to the wonderful people of Wyoming County for the generations of customer support!